Tokyo - Get to and Around Hakone
Hakone/Mt Fuji
Nobody sees this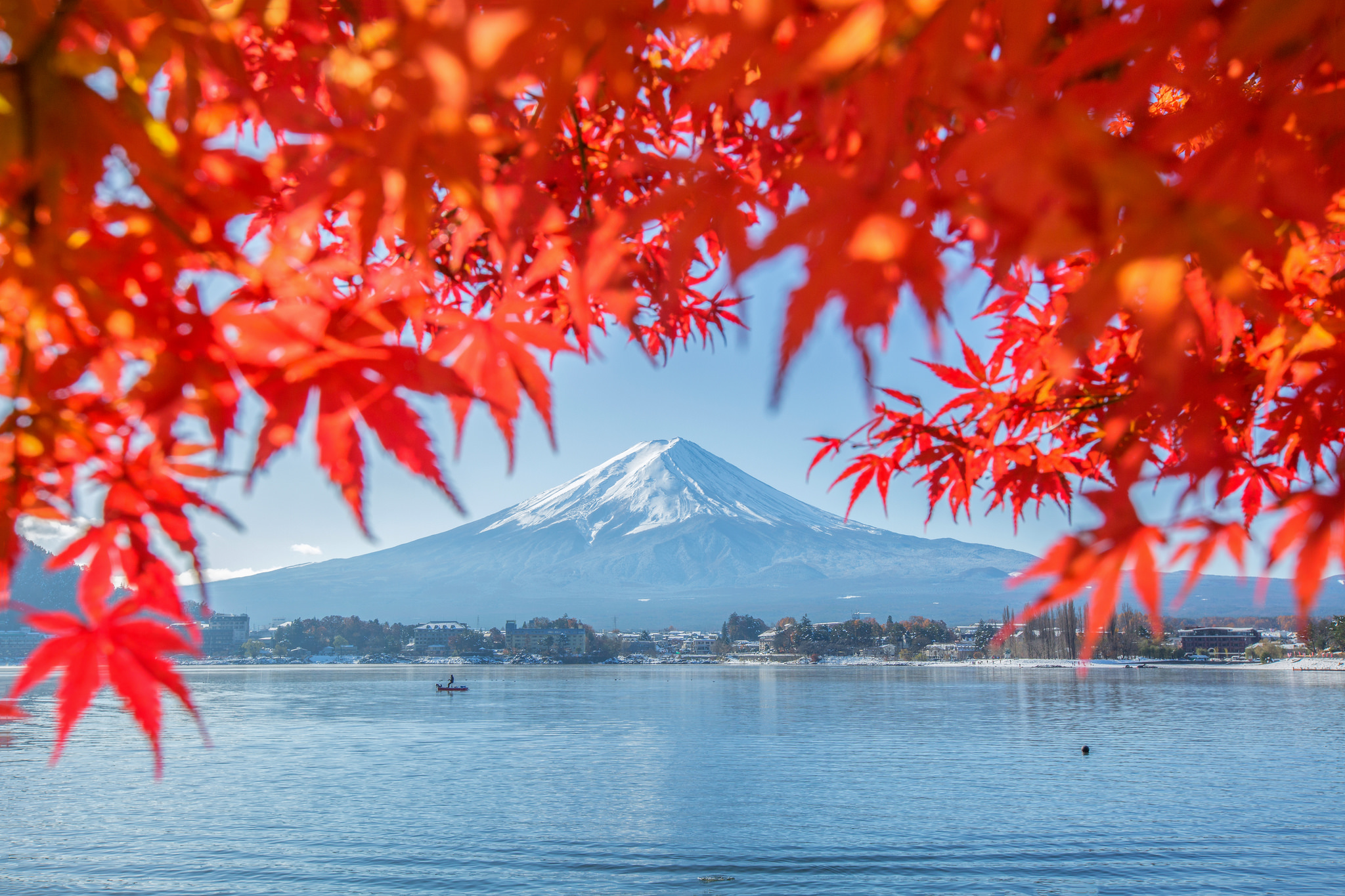 AI -> Tokyo station (Tokyo Metro line 18 min ¥170)

Tokyo Station has 10+ exits
They are divided into 2 sides - East (Yaesu) and West (Marunouchi)
Each side has North, Central and South exits, (and sometimes more)

Tokyo station -> Odawara by Shunkansen (40 min ¥3540 about $NZ42)(extra ¥200 on Fridays)

Tokaido Line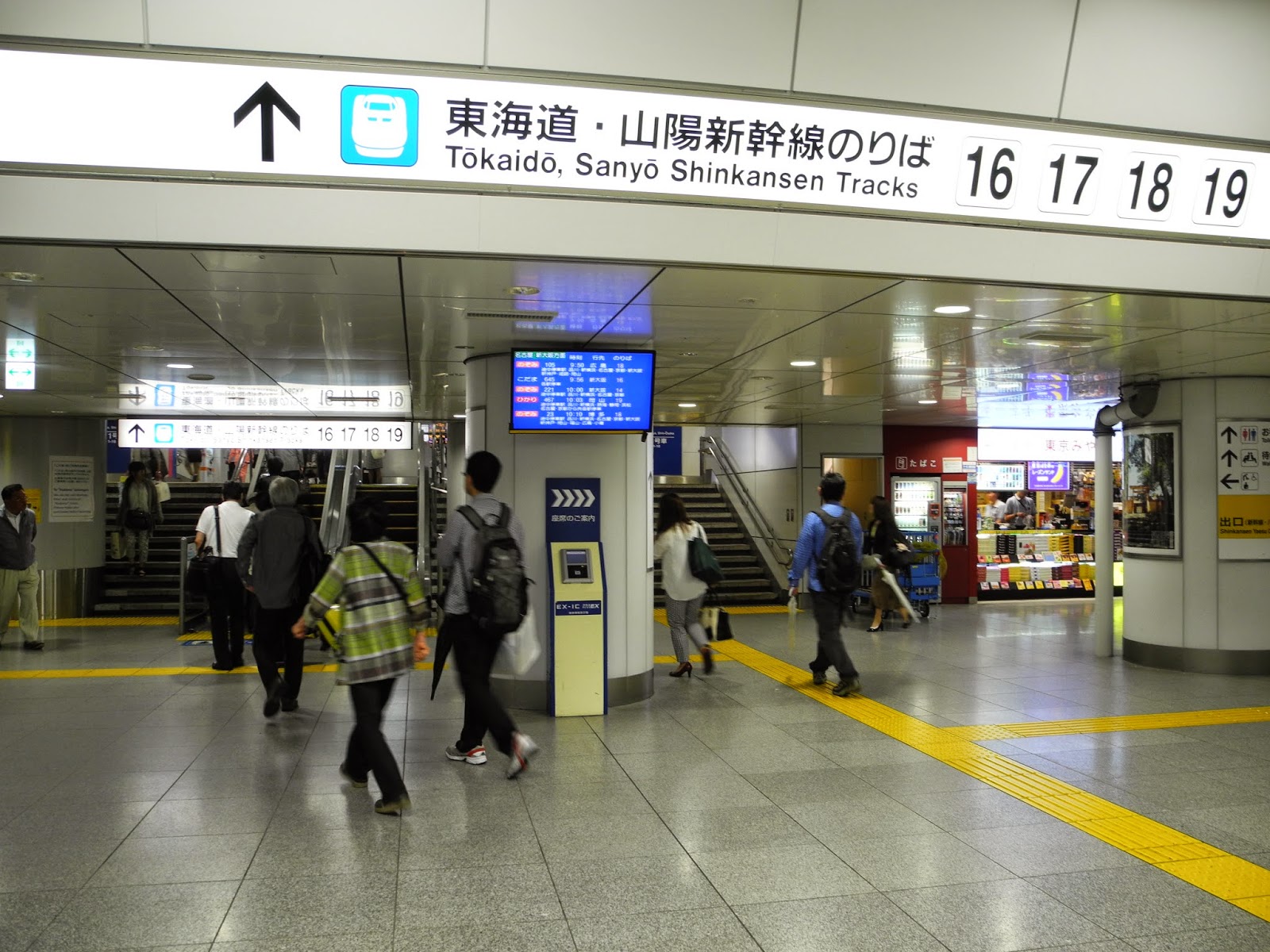 3 trains - Nozomi fastest, few stops; then Hirikari more stops; the one we want is Kodama which stops all stations including Odowara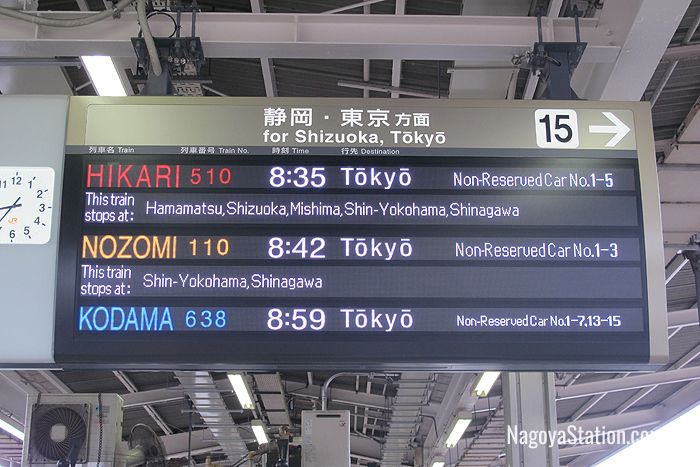 Typical schedule:

7.56 Track 14 Shinkansen Kodama 637
8.26 Track 18 Shinkansen Kodama 639
8.56 Track 15 Shinkansen Kodama 641
9.26 Track 14 Shinkansen Kodama 637

Tokyo station automatic ticket machines.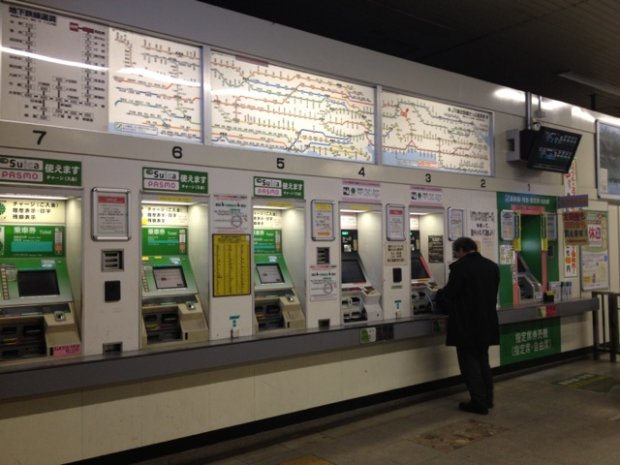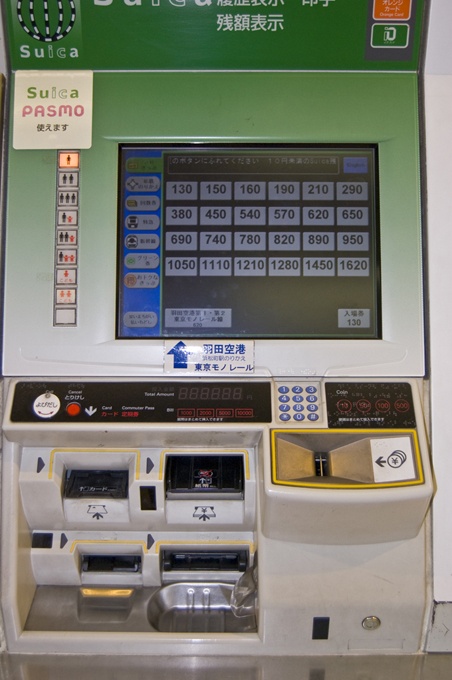 Select the button that says 'English', usually in the top left or right corner.

If you don't understand, buy cheapest and pay difference at fare adjustment machine at destination.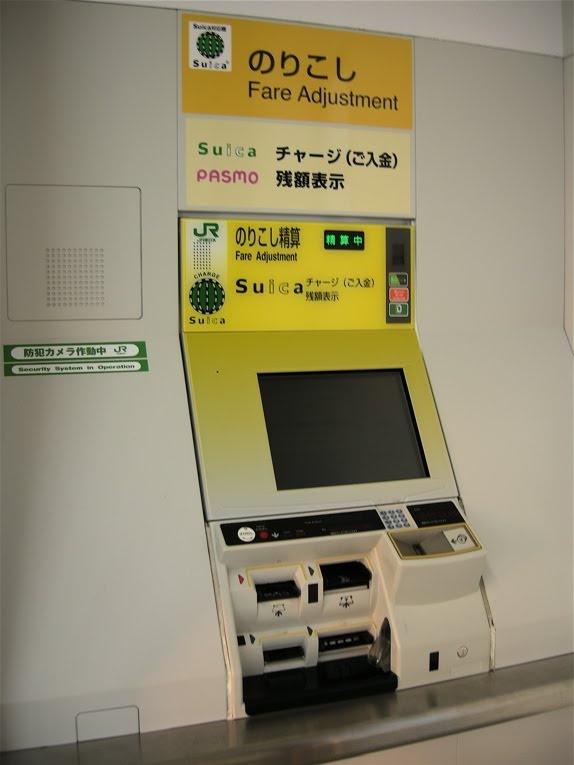 Or go to ticket counter. Write your ticket requests on a piece of paper - date of travel/departure/destination/ordinary or green (1st class)/non-reserved.

Auto ticket gates - ticket goes in slot, collect on other side.
For shinkansen go through a second set of gates.

Find your platform by looking for train line and direction.
Marks on the floor indicate where doors will be.
For long distance trains additional marks will indicate car numbers and whether ord/green or res/unreserved.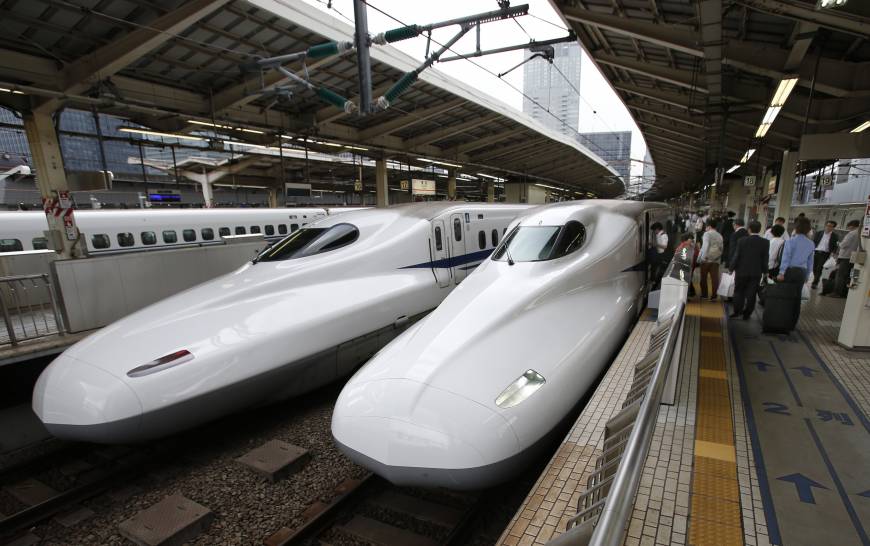 Pretend you've already been on it


2. From Odawara


Odawara Station




(Exit Shinkansen station and enter Odakyu platform.)
From Shikasen go down stairs
Exit and see stairs and escalators on your right
Go up, and you'll find Odakyu/Hakone Tozan Railway ticket gate. (Tracks 7 and 11)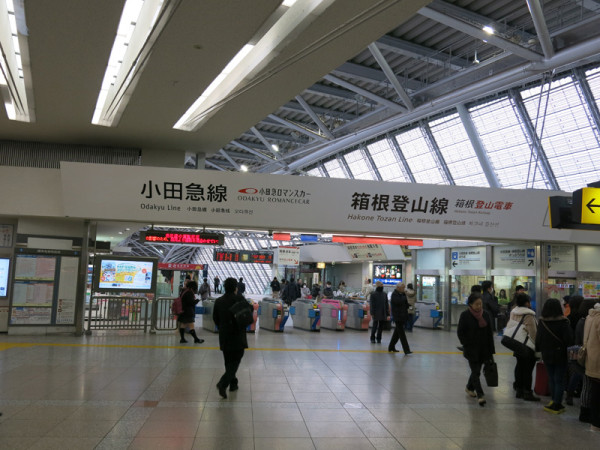 The Odakyu Sightseeing Service Center (just beside Odakyu Rail ticket gate) sells tickets.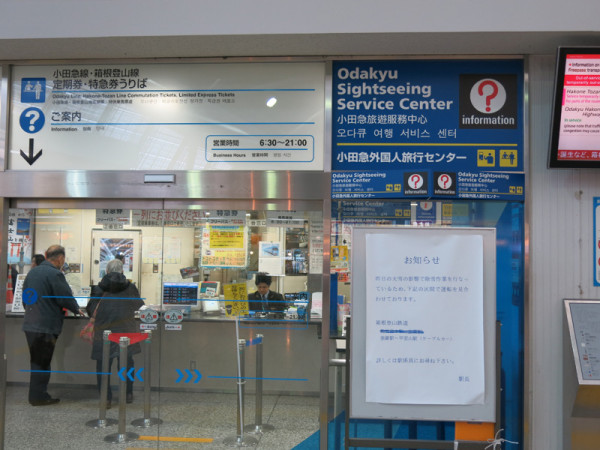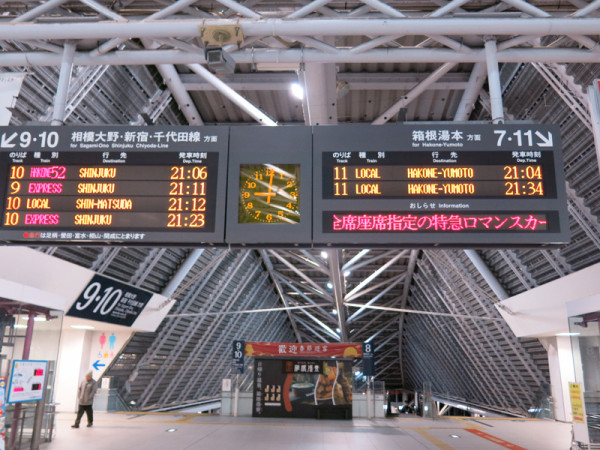 You can either do a full circuit, or just go to Gora.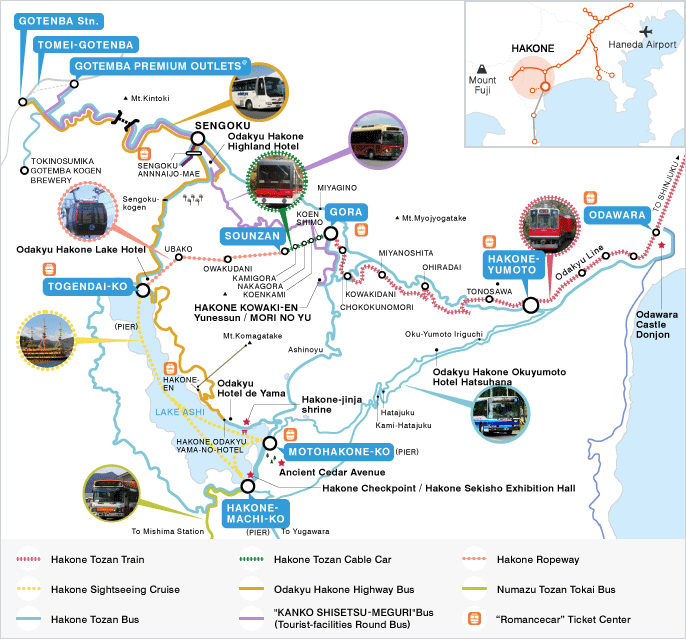 Full Circuit
If intend to do the full circuit, buy Hakone Free Pass at Odowara (¥4000 about $NZ48)
Gives free access to trains, cablecars, some boats and some buses, plus discounted admission to attractions.

Note that you're warned you may not see Mt Fuji at all (needs clear weather both Hakone and Mt Fuji)

One less than happy customer: "We took two trains and bus to get here from Tokyo, and paid for a mountain view hotel room"




Also note that if inclined to car sickness, final leg back to Odawara is a twisty road by bus.

This website outlines the round trip. Hakone Circuit.

You can do it in a day if you leave early in the morning, but it's really a 2 day trip with a ryokan stay in between.






Just to Gora etc
(b) Odawara to Gora - 650 yen / 50 minutes (change train at Hakone-Yomoto)

(actually only want to go to Chokoku No Mori)


1. Hakone Open Air Museum
¥1600 ($NZ20)(¥1500 with Free Pass)
(get off at Chokoku No Mori station (last station before Gora)
or 10 min walk from Gora
sculpture park + Picasso museum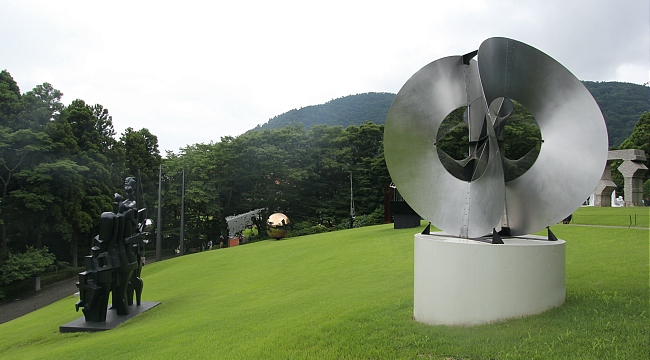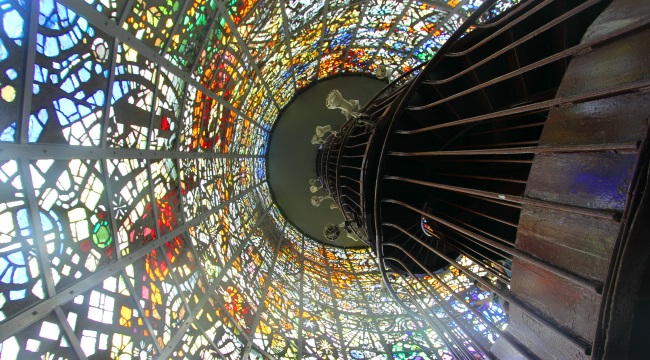 This is what you'll see there


2. Hakone Venetian Glass Museum
1,500 yen (Hakone Garasu-no-mori Museum)
Displays over 100 pieces of crafted Venetian glassware + modern glass outside walk.
Walk into building through a glass walled corridor made up of 160,000 drops of crystal glass hung from a 9 metre arched frame reflecting sunlight.
Dale Chihuly has his own exhibition room.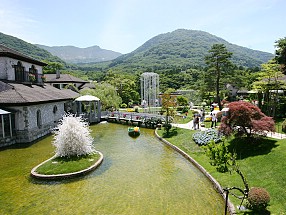 This is what you'll see there


3. The Pola Museum of Art
1,800 yen
Multiple exhibitions Picasso, Monet, Chagall, glassworks
cutting edge architecture, largely underground, and housing thousands of works of mainly French Impressionist and Ecole de Paris painters,
and by Leonard Foujita, Pablo Picasso and Yasushi Sugiyama. Includes a restaurant and a nature trail on the grounds.
Near the Hakone Venetian Glass Museum.

Chokoku-no-mori station look for the nearest bus stop (just a stone's throw away from the station) to catch the bus to the Venetian Glass Museum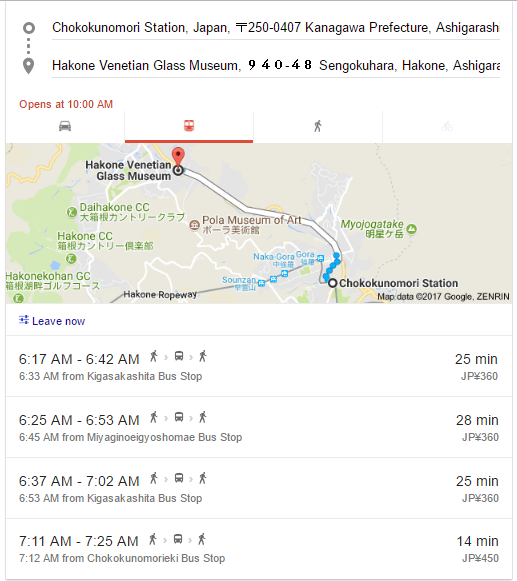 or
Gora to Glass Museum go to Miyaginobashi bus stop ¥360 8 min Tawarishi Hakone Glass Museum stop

This is what you'll see there

























Books by Title

Books by Author

Books by Topic


Bits of Books To Impress