Tokyo Get To and Around Shibuya and Ebisu
Odaiba/Palette Town
Hakone
Akihabara
Ueno
Central and Ginza
Shinjuku
Roppongi
Shibuya and Ebisu
Shibuya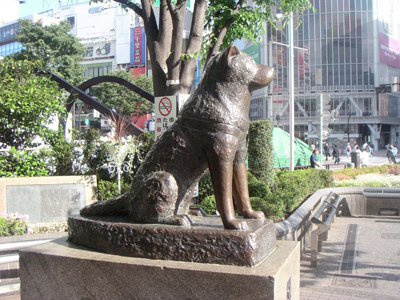 1. The Hachiko Statue in Shibuya Tokyo
celebrates the life of Japan's most famous dog, Hachiko, and his legendary loyalty to his owner.
The statue is located right outside the Hachiko exit.
(He is stuffed and displayed at National Museum of Nature and Science see Ueno page)


2. The Crossing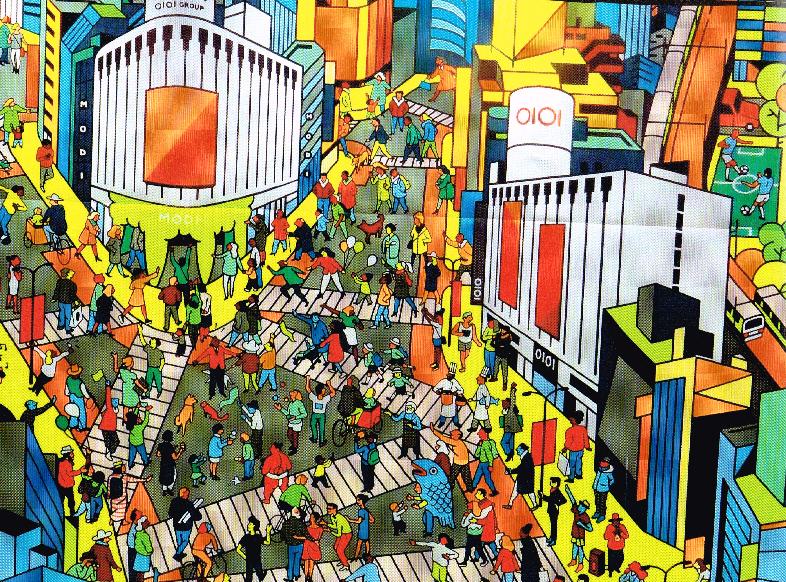 Night-time neon best time

What you'll see there


3. Shops
Shibuya 109 big shopping mall for women's fashion etc on the Crossing.
Most of the clothes in Shibuya 109 are only available in one size, which can be very frustrating
if you do not have a body type similar to that of young Japanese women. Open 10am - 9pm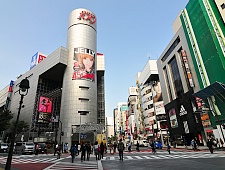 Across the street is 109 Mens (check for random Tshirts ....)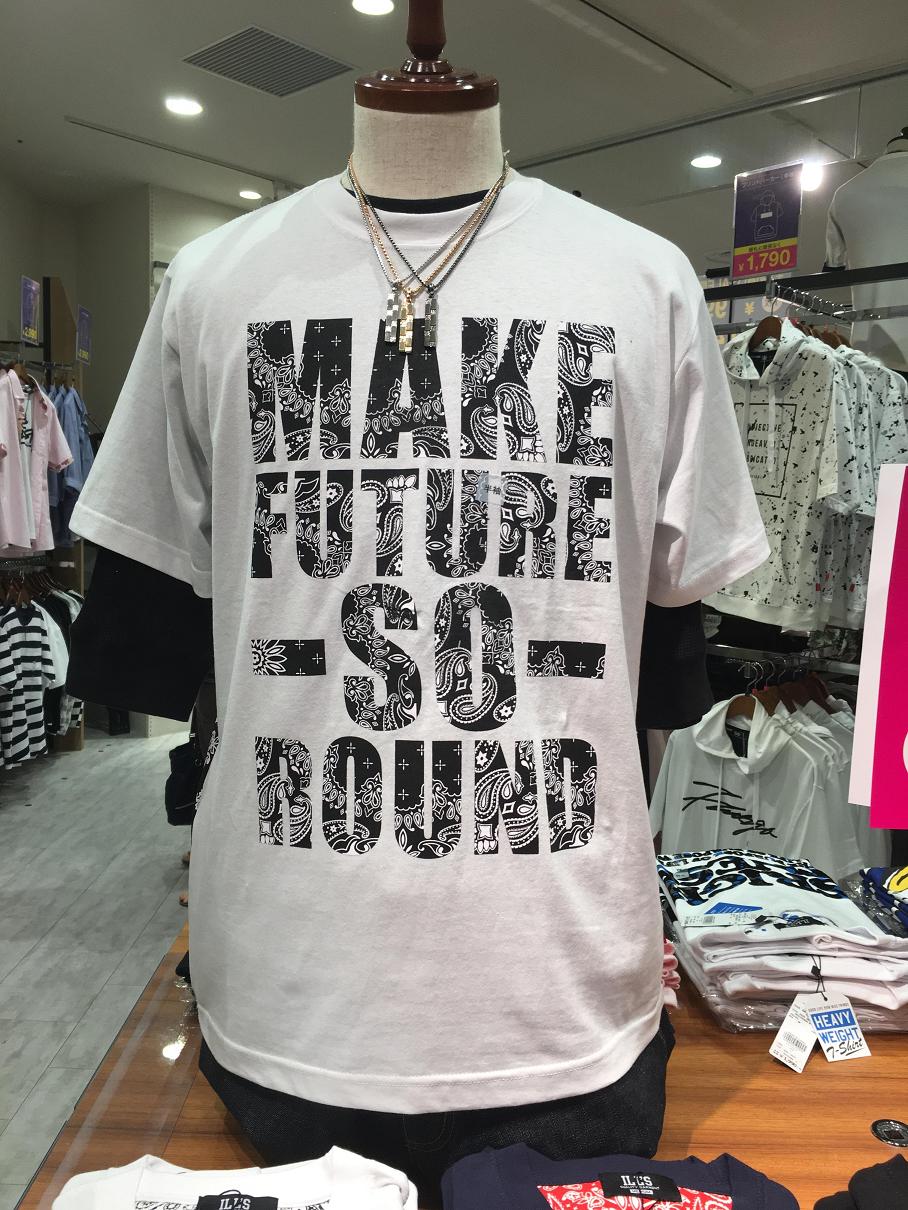 Tokyu Hands has everything from do-it-yourself, interior, hobby, crafts, outdoors, travel goods, stationery and more.
The Shibuya store spans eight floors. Open 10am - 9pm




Loft is Seibu's answer to Tokyu Hands, and also offering a large array of products related to interior, hobby, crafts and gifts,
but with less emphasis on do-it-yourself products. The Loft Shibuya branch consists of seven floors. Open 10am - 9pm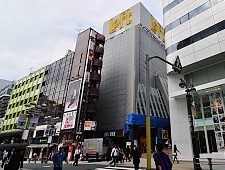 4. Myth of Tomorrow painting
Depicts the bombings of Hiroshima and Nagasaki as an eruption of vibrant colours, centering around a skeletal figure caught in the blast.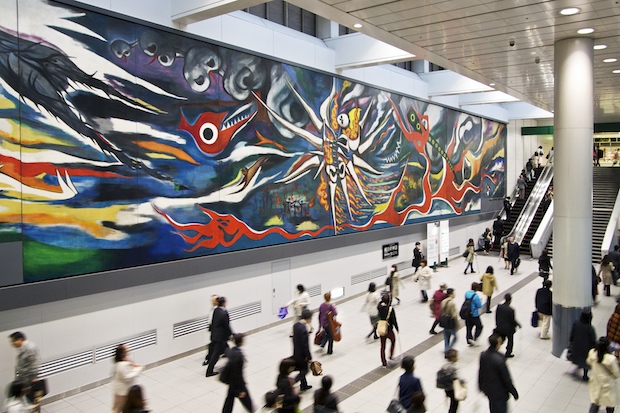 On walls of the bridge linking Shibuya Staion with Mark City complex.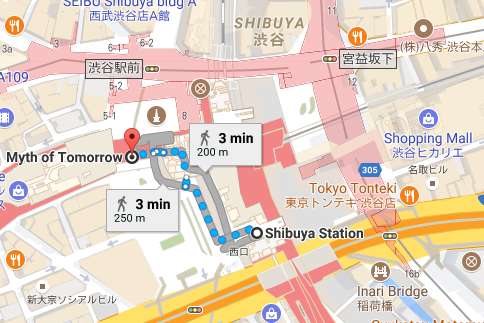 Eat near Shibuya Station try

Uobei - the best sushi experience in Tokyo?
all automated - order by touch screen and comes out on rails
sushi 2 for &yen108 (about $1.30)

What you'll see there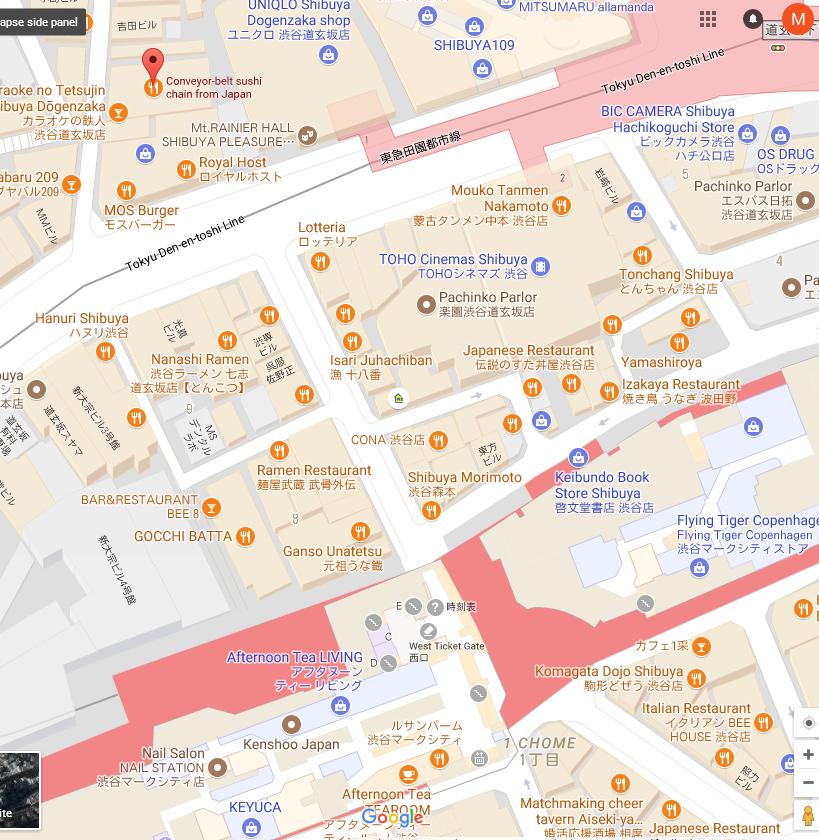 JS Burgers retro cafe
bacon and egg burger ¥1210 (about $15)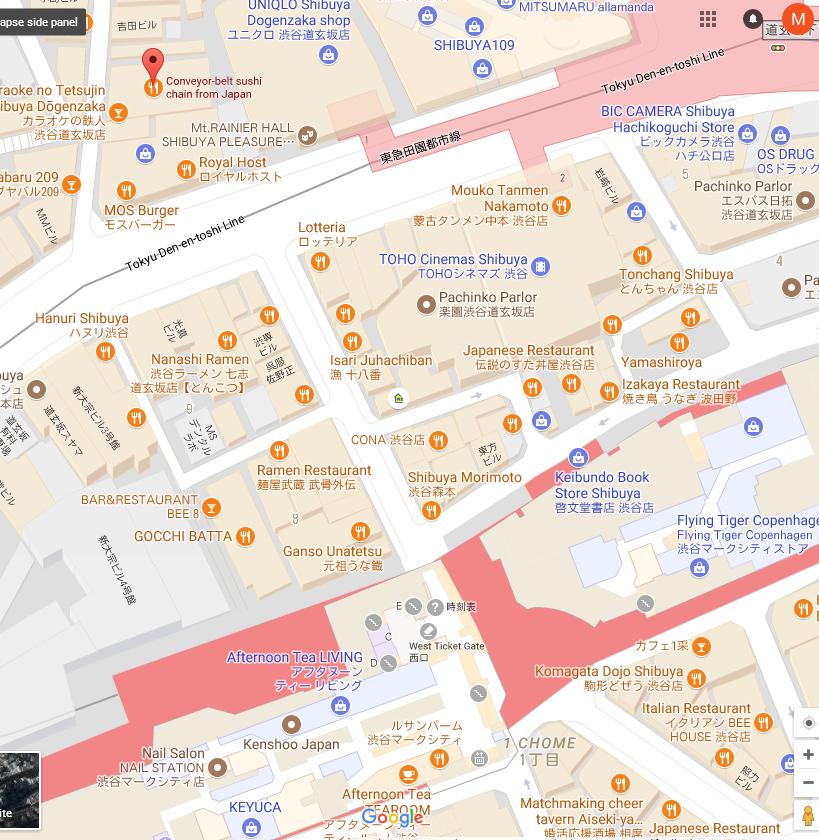 5. Ebisu
Next station from Shibuya
From Shibuya station take JR Yamanote Line
3 mins ¥140 every 3 mins

a. Near Ebisu station

Ebisu Yokocho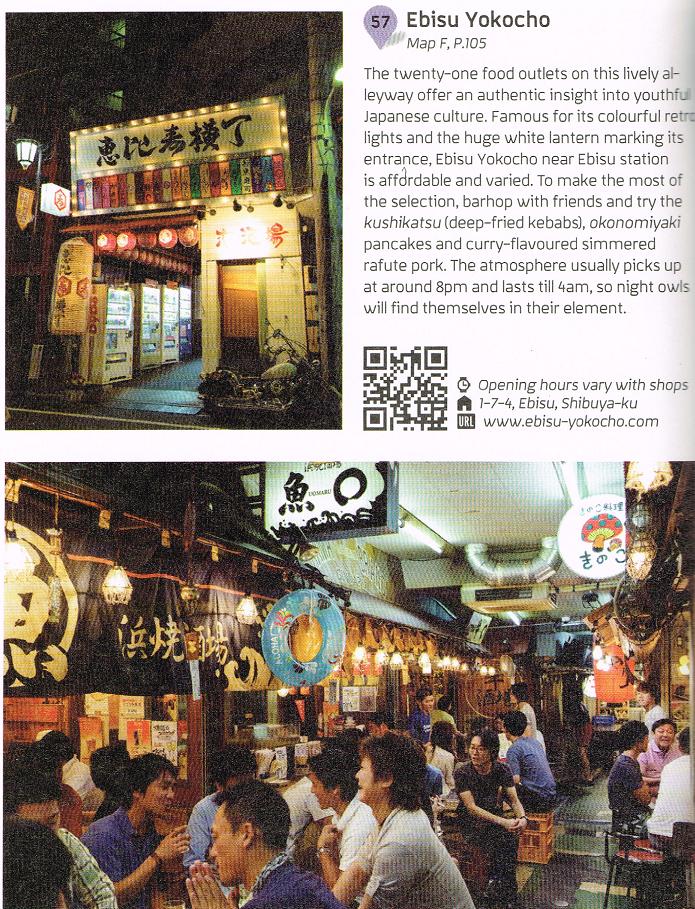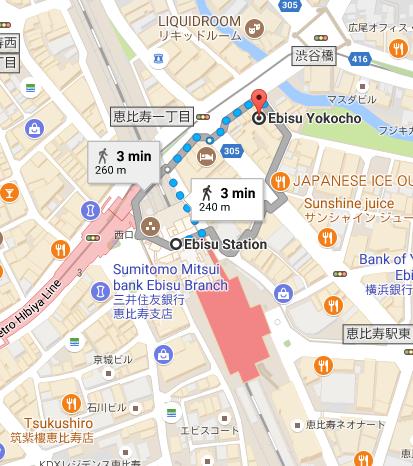 What you'll see there

b. Hokkaido Ebisu Garden Place Restaurant -
one of best views in Tokyo, looking west from highhest tower in Ebisu, Mt Fuji on a clear day
cheap food - seafood yakisoba 890 yen, cocktails 500 yen
11.30 am-2.30pm and 4.30-9.30pm
sunset best time
sunset aug 9 6.38pm, sept 8 6.00pm
3 min train ride to Ebusi station, on Yamanote line 140 yen, then walk 850m
(look for travelator toward Yebisu Garden)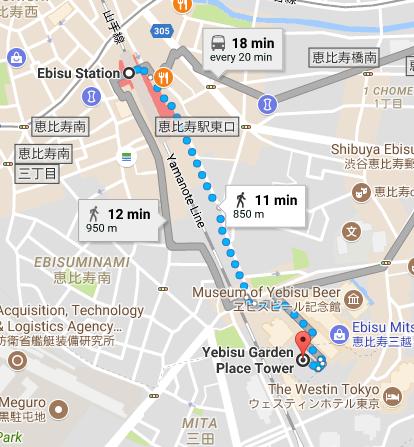 c. Museum of Yebisu Beer

Open 11am - 7pm
A free short tour explains the historic beer-making process and showcases vintage advertisements.
Samples are available for purchase after the tour at rock bottom rates--only ¥500 for four.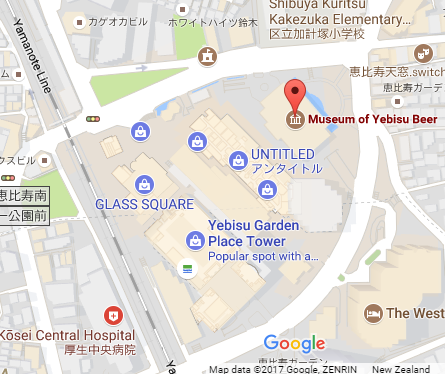 What you'll see there

d. Ice Ouca small ice cream cafe 3 scoops for 400 yen (about $5)
unusual flavours like tomato sorbet and pumpkin
noon - 11pm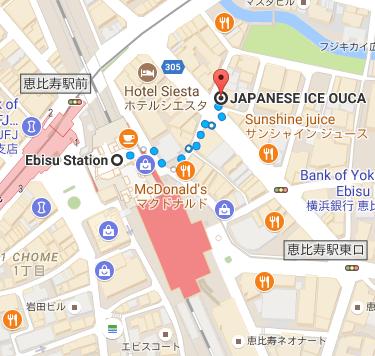 6. Furuhon Yuugi Ruroudou
second hand art book and magazine bookshop near Gakugeidaigaku Station
Matterhorn cake shop opposite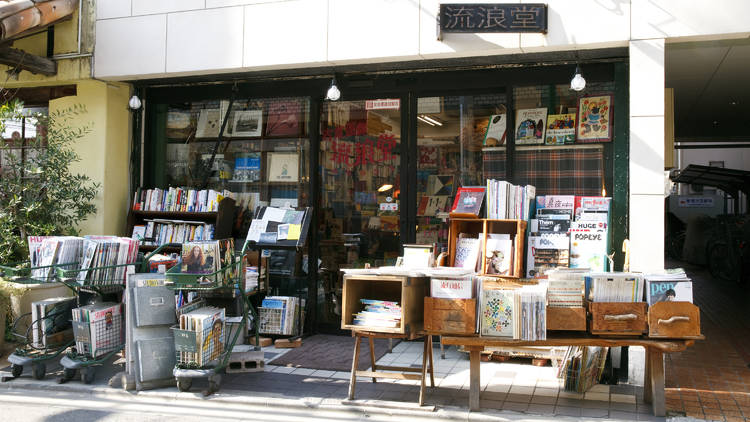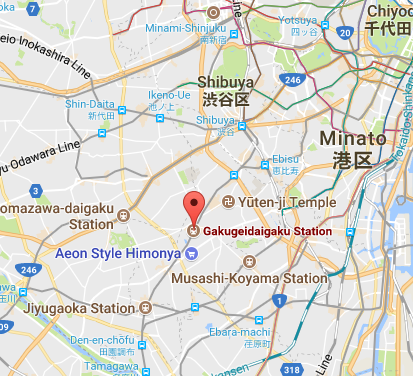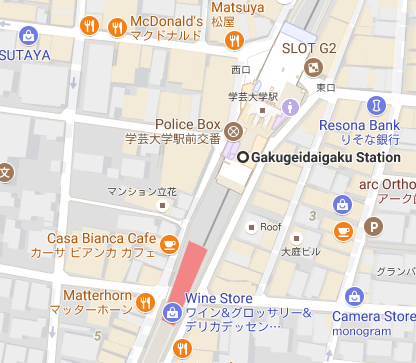 7. Cat Street
Shopping street in Tokyo combining upscale boutiques and trashy shops -no bargains
It has nothing to do with cats. This picture is a lie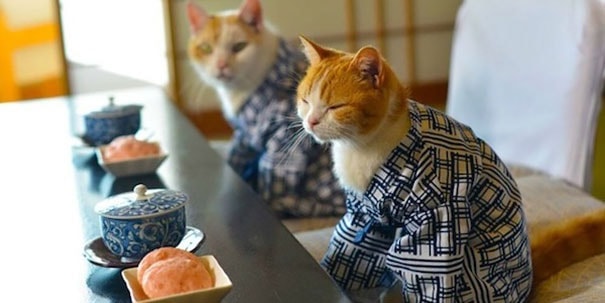 Books by Title
Books by Author
Books by Topic
Bits of Books To Impress